NBS TV's Political Analyst Dr. Anas Kaliisa Passes On Due To Unknown Causes.
Heartbreaking news coming on to Imbaraga news desk confirms that NBS Television's political analyst Dr. Anas Kaliisa is dead.
He was famous for his political show 'Ensi N'ebyaayo" in which highlighted the different things happening on the political scene across the world.
Dr Kaliisa, the former Director of the Institute of Research and Training was a political analyst on Middle East affairs, and one of the 21 founders and the Managing Director House of Zakat and Waqf Uganda.
He was also the Secretary of the Eminent Council of Sheikhs of Uganda and Chairman Muslim Jurists Uganda.
Sheikh Kaliisa was well-grounded in Islamic theology, law, history and customs and sits on the apex body of world Muslim scholars.
Dr. Kaliisa was the elder brother to Next Media service owner Kim Kariisa.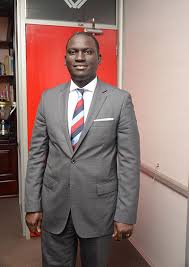 He recently came to the lime light for his comments about National Unity Platform principal and Presidential candidate Robert Kyagulanyi who he said is a project supported by rich families to oust Museveni.
In 2018, Dr. Kariisa claimed that the Rothschild family and Rockefeller family are the ones behind Kyagulanyi's political ambitions.
"I'm showing you how big this Bobi Wine thing is. Bobi wine is a project. There is a man called Rothchild and George Soros, they have an organisation that gives birth to these NGOs that they distribute across the globe, these organisations are untouchable," he said.
Born in Ntungamo, Kariisa has also been known to be a close confidant of President Yoweri Museveni, a presidential candidate seeking a six term.
The Boom Gossip understands that Dr. Anas Kariisa is an older brother to Kin Kariisa the Executive Director of Next Media services where the deceased was employed.
According to reports he suffered a heart attack and an alleged food poisoning around 6:00.
May his soul rest in peace.